Welcome to InSite: Events
The overarching objective of InSite is to share knowledge, stimulate discussion and provide you with access to expert voices within the construction industry.
Described as 'vital' and 'absolutely crucial' by previous speakers, InSite conferences embody this ethos from start to finish.


"Attending events like this are a must. If you want to be involved in
this community, you need to understand it. The only way to understand it is to get involved."
- James McGloin, speaker at previous event



InSite 2023
Date: Tuesday 26th September
Venue: Savoy Place, 2 Savoy Place, London, WC2R 0BL
Time: 10:00-15:30
Topic: Building Safety & Standards
Access InSite 2023 tickets
Buy your InSite tickets now for only £80*
*Excluding fees
The Agenda so far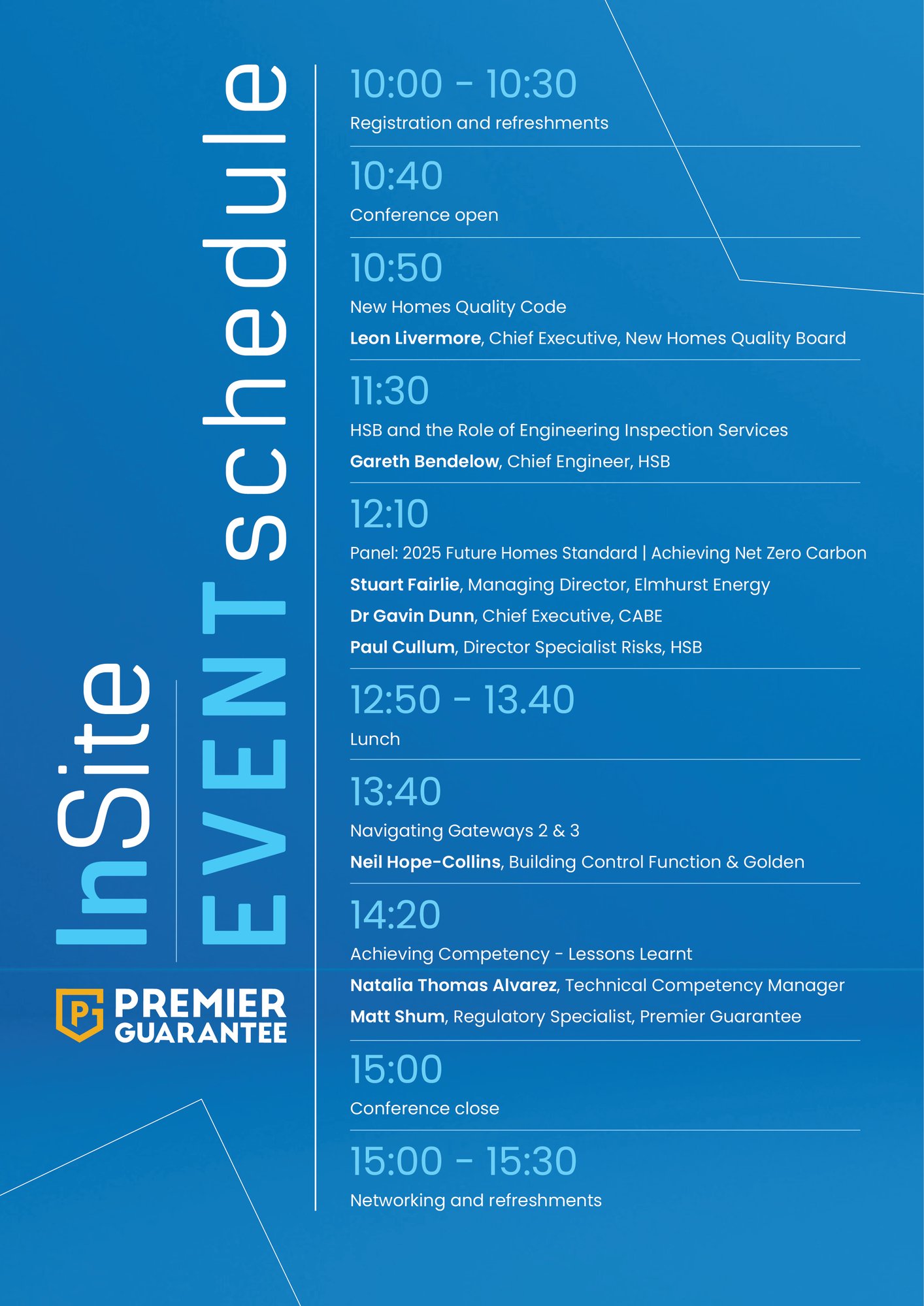 Confirmed speakers so far
Stuart Fairlie
MD at Elmhurst Energy
Stuart is a highly respected figure in the Energy Assessment industry, renowned for his significant contributions to the development of energy assessment calculations. As the Managing Director of Elmhurst, he spearheads the organisation's efforts to stay at the forefront of technical and legislative advancements, and consistently delivers market-leading products and services.
Gavin Dunn
Chief Executive, CABE
Originally trained as an architect, Gavin initially practised in North America with a large construction engineering firm before returning to the UK to specialise in the energy and environmental performance of buildings in 1998. Gavin advanced this specialism through positions at the Welsh School of Architecture, and Elmhurst Energy, where he helped develop some of Europe's leading building energy certification and labelling systems.
Paul Cullum
Director Specialist Risks, HSB
Paul joined HSB in 2004 and was appointed Director, Specialist Risks in 2022, responsible for specialty products, digital and alternative distribution and product development. Paul has over 35 years' experience in the Engineering Insurance industry and prior to joining HSB held regional sales and marketing management roles for National Vulcan and RSA Engineering Insurance.
Neil Hope-Collins
Operational Inspector, HSE
Neil has worked for HSE for over 20 years. In his time as an Operational Inspector he has worked across a range of sectors from agriculture to The M.O.D. and local authorities via engineering, food, electricity distribution and construction. He joined the building safety programme in November 2020 where he works on HSE's future role as a building control authority and takes the lead for operational aspects of the Golden Thread of information.
Gareth Bendelow
Technical Director - Engineering Division, HSB
Gareth is the Technical Director for the engineering division of HSB and is responsible for all the technical standards associated with all the inspection activity, risk management solutions and the coordination of the loss control engineering team. Gareth joined HSB as a Special Services Engineer in 2000. In 2003 he was appointed Engineering Manager, in 2010 Chief Engineer and was appointed to his current position of Technical Director in 2014.
---
"These events have a key role to play in raising awareness for building safety, of the Building Safety Act and the changes that are coming through. If you have an opportunity to come to an event like this and you haven't done so then please do because this has been described as the biggest change in safety legislation in our industry in a generation"
- Paul Nash, speaker at previous event
---
Take a look at last years event